Eric Kelly
Manager/Personal Trainer
Eric has a B.S. in exercise science from Westfield State and is a Certified Personal Trainer through AFAA. While at Westfield, Eric was an avid runner and competed in the 400 hurdles on the track team. Today, Eric has turned his focus to all natural bodybuilding. He enjoys helping people from all walks of life to get healthy once again. With an emphasis on intensive strength training, corrective exercise, and proper nutrition, Eric knows how to get results. While not training, Eric enjoys time with his wife and beautiful daughter and son.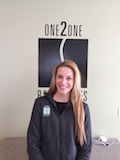 Taylor Arsenault
Personal Trainer
Taylor Arsenault comes to us with several years of management experience in the fitness industry. She is a certified personal trainer through the National Academy of Sports Medicine and recently earned her Master of Exercise Science and Health Promotion degree from California University of Pennsylvania. Taylor also holds a Bachelor of Psychology degree making her a unique addition to our team. In high school Taylor took a part time job in a gym which later evolved into a management position and fostered a lifetime passion for the world of fitness. After many years playing organized sports her focus had shifted completely to fitness, weight-lifting and nutrition. Taylor is an advocate of a balanced lifestyle, living by the philosophy of "work hard, play hard." She knows that the journey to better health and fitness can be challenging and recognizes that a one-size fits all approach doesn't work. Taylor is avidly committed to helping each client find what works best for them, helping to produce the greatest possible results. In her leisure Taylor enjoys spending time with her family, and exploring new hiking trails with her dog. She is a devoted Boston sports fan and enjoys hosting Sunday football for friends. Taylor's passion and enthusiasm for fitness is contagious. She believes that hard work beats genetics and she looks forward to bringing her positive energy to Bodyscapes.
Bob Dandaraw
Managing Partner
Being a multi sport athlete my entire life, I have experienced first-hand how proper training can dramatically improve one's life, both physically and mentally. My passion is helping others get healthy, lower stress, and feel better through proper nutrition and exercise. Whether you are looking to lose weight, increase your energy level, decrease the number of medications you're on, or train for a sporting event, there is something here for everyone.
I am a Certified Personal Trainer through the American College of Sports Medicine. I have a Bachelor of Science in Mechanical Engineering from Rennselaer Polytechnic Institute and a Masters in Business Administration from the F.W. Olin Graduate School of Business at Babson College. I enjoy running and cycling and have completed the New York Marathon, and several half marathons. More recently, I have become passionate in Triathlon and completed several sprints, Olympics, as well as the Timberman Half Ironman. I live in Chelmsford, MA with my incredible wife Susan and three beautiful children. I truly look forward to meeting you and supporting you in your journey.